Layout and function
The most important components of the FS-IRD are the radiator modules within a horizontal rotating drum, which has an integral, welded conveyor screw.
The material to be processed isfed continuously, by a volumetric metering unit, into the integral screw of the rotating drum, distributing it evenly through the dryer while it is treated with infrared light.
At the end of the rotating drum the material falls into the output hopper and can be transferred directly to the next process step.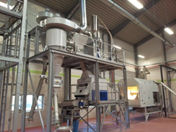 Industrial application
Throughout europe there are already have several industrial used machines working successfully with capacities between 100 und 1500 kg per hour.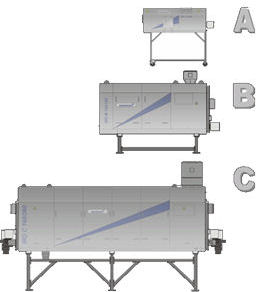 Sizes and types
- Modular design
- more than 200 possible configurations (sizes / performance)
- Throughput: 20 kg/h – 5.000 kg/h
- integrated machine frame, 4 feet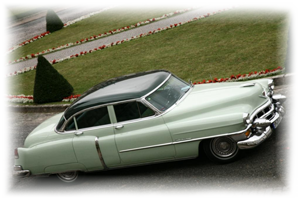 Video of funktion
  Video of funktion of our FoodSafety-IRDs
  When clicking the button you will be directed to www.youtube.de (in a new window)!